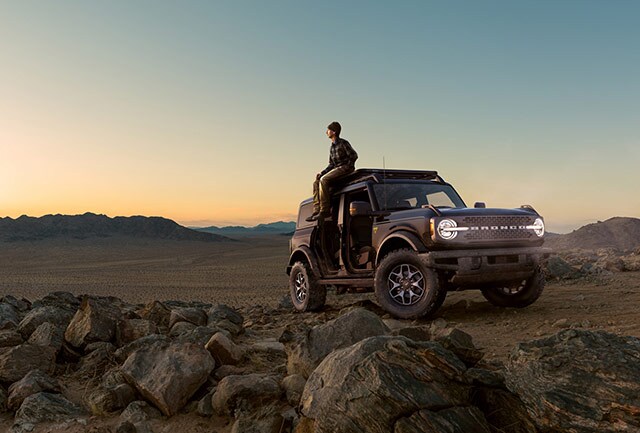 At Casa Ford, you'll find all kinds of vehicles in our massive pre-owned inventory. Cars, trucks, SUVs, imports, and domestics: you can find them all on our lot. Sometimes you can even find classic Ford vehicles, like old-school Mustangs, but those can be pretty rare finds. Well, we have some good news for all of you classic Ford fans. Ford has recently unveiled the return of a legend, the Ford Bronco.
That's right! The all-new 2021 Ford Bronco has been revealed and it looks better and more capable than ever! Renowned for its off-road prowess and unmatched performance, the original Bronco went out of production in 1996, and ever since Bronco enthusiasts have had to hunt for pre-owned models to get their fix. Now, not only is the Bronco on its way back, there will be three flavors to choose from: the 2021 Bronco two-door, the four-door version, and the 2021 Bronco Sport.
Those familiar with the classic Bronco know its reputation for fun and performance, and that legacy is well-represented in the new versions. All three versions of the 2021 Bronco will come equipped with 4X4 capabilities, and the performance to Go Over Any Type of Terrain. It's been torture-tested in some of the most grueling off-road environments in the world, including the Baja 1000, one of the world's toughest off-road endurance races.
Not only has Ford revived the Bronco's classic look and performance, but it also brought back its untamed spirit, making it one of the most fun vehicles on the road! You can easily remove the roof and doors to feel the sun on your face and the wind in your hair!
The 2021 Bronco launches in Spring of 2021, so reserve yours today with Casa Ford! If you need a reliable pre-owned ride while you wait for the new Bronco, come see us! We're your destination in the Fort Bliss, Cloudcroft, and El Paso areas for reliable pre-owned vehicles. We have hundreds of used cars, trucks, and SUVs in stock, so check out our inventory online today! We also offer fast and easy financing. You can start the process right now by filling out this convenient online application.
Our casa es su casa at Casa Ford, Home of the Nice Guys!